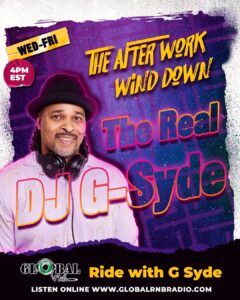 Gerald Stinson (aka The Real DJ G-Syde) began rockin' the decks at the age of 14 but it wasn't just something he woke up one day and said, "That's what I want to do."  G-Syde's inspiration to touch the turntables came from his dad, Gary.  Gary moonlighted as a DJ at popular Southern California venues as well as made weekend appearances on radio station mix shows.  G-Syde would witness how effortlessly his dad made it seem to be able to play a song from one turntable then transition, mix and blend a song on another turntable, making it sound phenomenal.  Today, that act of transitioning, mixing and blending music has become G-Syde's "trademark" style of performance.
After countless hours and days of practicing mixes and blends, digging through dozens of crates of vinyl, and breaking one turntable needle after another, G-Syde became motivated enough to want to perform live for a crowd.  G-Syde began by performing live for family and friends at house parties, backyards and alley gatherings.  He soon became the DJ for the neighborhood breakdance crew.  After all, G-Syde could not dance, so being their DJ was the next best thing.  When he turned 18, G-Syde took his performances to high school dances and proms.  Then at 21, he found himself following his dad's footsteps by performing at Southern California nightclubs and other venues.
In 2001, G-Syde relocated to Atlanta.  Still having that passion to be a DJ and entertain crowds of people, in 2003 he created his own mobile DJ service, 6FIVE Entertainment.  Since then, G-Syde has performed for many well-known companies like Home Depot, K&G Superstores, Stila Cosmetics and Sunday Riley just to name a few.  He is also well known throughout the Open Mic community as one of their favorite DJs to spin at their events.  We cannot forget about the house parties, weddings and school events.  G-Syde is involved in all areas of the business from promoting, advertising, finances and performing.
Continuing to follow in his father's footsteps to be on radio, G-Syde is one of the newest air personalities on Global RnB Radio.  You can check out his show every Wednesday through Friday, from 4pm to 6pm EST.  He will be playing music from the 70s, 80s, 90s and 2000s.  You don't want to miss his Ride at 5 where he will mix it up with the best of RnB.